Published on March 21, 2023. Last Updated on March 21, 2023.
What is AKN: Acne Keloidalis Nuchae, often abbreviated as AKN, is a skin condition that manifests in the form of small or large painful bumps on the back of the head. In their initial state, the small bumps can be confused for razor burns. In reality, the condition is genetic, and buzz haircuts are just a trigger for it. 
This 36-year-old patient had a large lesion for 10 years and didn't know what had caused it. He came to Dr. Umar, also known as Bumpinator, to get his AKN plaque surgically removed.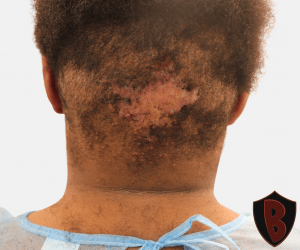 Dr. Bumpinator, AKA Dr. Umar, started off by evaluating the patient with his AKN classification system. He identified the patient's lesion as a flat follicular plaque with Class III distribution.
He then used his bat excision method to surgically remove the AKN lesion in a fashion that ensured the most optimal wound closure with secondary intention healing (SIH). As the patient's plaque was relatively larger in height, Dr. Bumpinator used his patent-pending Athena sutures to assist with the SIH.
You can see the patient's results, which are nothing short of life-changing.
The patient's post-op scar is clean and healed without any complications. As seen in Before and After comparison photos above, his hair growth after surgery completely covered up the scar. 
Frequently Asked Questions
Can I use medication to treat my AKN?
You can use steroid medications to address the inflammatory aspect of your AKN. You can also try antibiotics if you notice a bacterial infection with your AKN. However, you are not likely to be able to get rid of the lesions with medications alone. If you have AKN and want to get rid of it for good, contact Dr. U (Bumpinator), who will assess your condition to come up with the most optimal treatment for you.
My AKN bumps keep growing. How big can I expect them to get?
Unfortunately, AKN is known to worsen over time, meaning that AKN bumps can grow in size ranging from their depth, width, the affected area, and more.
You can consult Dr. Umar, A.K.A., the Bumpinator, to determine how to permanently eliminate your AKN lesion using any of his techniques.
References
Umar S, David CV, Castillo JR, Queller J, Sandhu S. Innovative Surgical Approaches and Selection Criteria of Large Acne Keloidalis Nuchae Lesions.

Plast Reconstr Surg Glob Open

. 2019;7(5):e2215. Published 2019 May 16. doi:10.1097/GOX.0000000000002215

Umar S, Lee DJ, Lullo JJ. A Retrospective Cohort Study and Clinical Classification System of Acne Keloidalis Nuchae.

J Clin Aesthet Dermatol

. 2021;14(4):E61-E67.

What Is Acne Keloidalis Nuchae?. WebMD. https://www.webmd.com/skin-problems-and-treatments/what-is-acne-keloidalis-nuchae. Published 2022. Accessed August 3, 2022.