Published on August 13, 2020. Last Updated on October 29, 2021.
"It's incurable" – that's what doctors and specialists said about the raging Acne Keloidalis Nuchae, AKN, on the back of his head. Defeated, Adalid from Anaheim, Calif. hid the big bumps on the back of the head by keeping his hair long and suffered in silence for approximately 12 years. It seemed that no matter the number of specialists he consulted, no one knew how to cure bumps on the back of the neck.
"They kept saying there was no solution for it," Adalid said.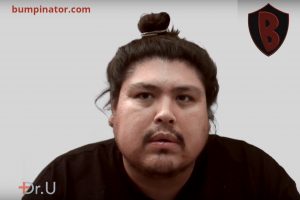 Adalid spent 12-years looking for a treatment and cure for his itchy and foul-smelling bumps on the back of his head. All the doctors he consulted told him his condition had no remedy or cure.
AKN is a skin condition that affects the majority of African American, Latino/Hispanic and Asian men. The condition itself starts as small itchy bumps along the back of the neck that eventually grow into painful, itchy papules and pustules. In severe cases, the bumps grow bigger, can thicken, take over the entire back of the head and cause patchy hair loss.
In Adalid's case, the bumps formed along the nape of his neck and fused on the back of his head. He described them as large, itchy and foul-smelling lesions. With time, he grew frustrated with the lack of medical treatment.
Becoming his own Advocate
Taking the matter into his own hands, he began to deeply research AKN – the condition and alternative types of treatments. That was when he stumbled upon Dr. U's Bumpinator videos and saw what many told him was impossible – a treatment… a solution … a cure.
Armed with hope for relief for the first time in years,  Adalid called Dr. U Hair and Skin Clinic in Manhattan Beach, Calif. to schedule an appointment with Dr. Bumpinator, also known as world renowned board certified dermatologist, Dr. Sanusi Umar.
Dr. Bumpinator has spent a number of years researching and treating patients with AKN. His innovative and transformative treatment options have changed the lives of hundreds of AKN patients who, like Adalid, had given up on a bump free head.
Dr. Bumpinator Saves the Day: The treatment others said didn't exist
During the consultation Dr. Bumpinator examined the bumps and determined that the type of lesions were in the merged papules and nodules stage on the verge of entering Stage II of the distribution phase. Meaning the papules and nodules were expanding and covering a larger part of the back of his head than before. According to Dr. Bumpinator, "the papules and nodules were progressively getting worse."
The thing to remember, according to Dr. Bumpinator, every AKN case is different. Therefore type of treatment varies from patient to patient. In Adalid's case, after discussing all his options with it was decided that the best option was surgery. While in surgery, Dr. Bumpinator used his specialty BAT excision method to create a clean, natural-looking scar and neck hairline with the use of tension sutures that directed the wound closure process. The BAT excision method als minimizes the chance of the bump returning.
Living Bump Free
Ten weeks following surgery, Adalid met with Dr. Bumpinator. Upon review, Dr. Bumpinator determined, for the first time in years, Adalid finally had the relief he sought – to be bump free. During the follow up, Adalid informed Dr. Bumpinator of his plans to cut his hair and keep it short.
"Now I just wash my scalp like nothing ever happened," he said confidently.
"I recommend it 100 percent, [because]  of the results I have today," Adalid said.
The most noteworthy outcome of his treatment was the permanent disappearance of lesions and malodorous pus weeping, according to Adalid.
"Definitely a confidence booster," Adalid said. "It makes you feel better. Overall it's something you don't have to worry about anymore."
Due to Dr. Bumpinator's life changing treatment options to treat AKN, more men, like Adalid, are stepping out of the shadows. No matter the size of the bumps, Dr. Bumpinator is readily available to answer questions. Submit questions and treatment inquiries by clicking the button link below:
[Button id="5″]
---
FAQ
How do I know if my bumps on the back of my head are acne keloidalis nuchae?
Those bumps didn't show up big on day one. AKN actually starts out as small bumps that with time grow larger. As they get bigger, they can have a variation of symptoms that includes  bumps that ooze foul smelling pus, bleed, are itchy and are inflamed. If they do not subside despite the number of doctors and treatments a person has tried, they should consider consulting with a specialist that can appropriately diagnose the bumps. Though it's not life-threatening, they can be quite irritating and embarrassing to have.
Besides surgery, what other alternative treatments are available to treat the bumps on the back of my head, AKN?
Before any type of treatment is recommended by Dr. Bumpinator, he determines the severity of the AKN. In some instances, he may recommend a combination of treatments. Ultimately, because not all AKN cases are the same, finding the best type of treatment may require a one-on-one examination and in some instances a biopsy of the bumps. Treatments can range from surgery, laser or radiation treatment. Read more about Dr. Bumpinator's treatment options:
https://bumpinator.com/services/
Further Reading