Published on November 18, 2020. Last Updated on June 21, 2021.
Acne Keloidalis Nuchae (AKN) is a skin disease that manifests as small pimple-like bumps that continue to grow bigger over time.  However, the condition can evolve into many different forms. They can remain as discrete papules. Or they can merge into plate-like plaques or dome-shaped masses.  Individual patients may also differ in terms of their lesion size, location, and distribution. Despite the wide range of variation that exists, Acne Keloidalis Nuchae presentations are traditionally referred to as either "early stage" or "late stage." There is no objective classification system to describe the different types of lesion manifestations.
Dr.Bumpinator (a.k.a Dr.U / Dr. Umar ), who specializes in treating Acne Keloidalis Nuchae using several modalities including medications, surgery, laser, and radiation, explains that a key to developing a consistent and optimal AKN treatment outcome lies in the development of a reliable classification or scoring system, Many AKN studies have run into problems in reaching conclusions mainly due to lack of a scoring system for the disease [1] For this reason, Dr. U set about establishing well-defined categories for the condition as well as a practical scoring system describing the general types of lesional variation which are likely to occur in patients.
How AKN Classification Helps Patients Attain The Best Possible Treatment Results
Dr. Umar's classification system is premised on an important and unprecedented fundamental principle: The effectiveness of any treatment for Acne Keloidalis Nuchae will depend on the clinical presentation of individual patients. For example, one method for surgical excision may work well for a tumorous mass in one scalp location. Still, it may produce a cosmetically unacceptable result for another lesion because of its morphology and/or location. The same holds for other treatment options such as lasers, radiation, and medications.
Different presentations need to be paired with specific treatment approaches. Based on his experience with patients, Dr.U has developed/innovated an effective set of medical, surgical, laser, and radiation-based methodologies. With a proven history of success, these treatment protocols aim to permanently eradicate AKN lesions and consider the final appearance that patients ultimately want to restore their self-confidence.
Rather than assigning patients to the "early stage" or "late-stage" bucket, Dr.Bumpinator's system for classifying Acne Keloidalis Nuchae accounts for the wide range of diversity that exists across patient cases. By using this approach, patients benefit from a more customized form of treatment that is more precisely tailored to the unique characteristics of their case.
Dr.Bumpinator's AKN Classification System Published in the Journal of Clinical Aesthetic Dermatology
Dr.Bumpinator's system for classification was published in a report entitled, A Retrospective Cohort Study and Clinical Classification System of Acne Keloidalis Nuchae [2]. The Journal of Clinical Aesthetic Dermatology published it.
The report describes his controlled study performed on a sample size of 108 patients suffering from Acne Keloidalis Nuchae (2/3's black and 37% Hispanic). The data and findings gave rise to the final structure of his classification system.
A Summary of Dr.U's Classification System For Acne Keloidalis Nuchae
Dr. Bumpinator's categorization schema comprises three tiers for describing individual AKN presentations.
distribution (i.e., spread) of individual papules and nodules
lesion type/ morphology
presence of scalp diseases
Tier 1
In classifying a patient, the first thing to do is assign a distribution class. Tier 1 describes the distribution of lesions between two imaginary horizontal lines
occipital prominence (upper)
inferior mastoid processes (lower)
The lesions themselves would be categorized according to one of four classes. By characterizing the sagittal width of the lesioned region on the back of the head, it is then possible to make fairly reliable assumptions about the width of the final scar.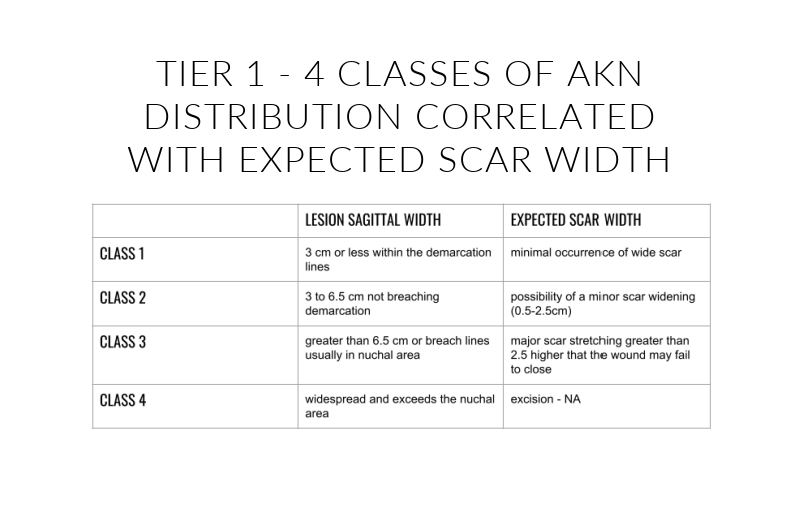 Tier 2
Tier 2 of Dr.Bumpinator's AKN classification schema represents the second part of his proposed nomenclature for describing a patient's case.  This tier is concerned with the morphology of the lesion, which can fall under one of the following four categories:
discrete papules or nodules
merged papules or nodules
plaque
tumorous mass
Tier 3
Finally, tier 3 describes the presence (or absence) of the following scalp diseases:
Follicultis decalvans (FD)
Dissecting cellulitis (DC)
This part of the patient's final nomenclature requires the use of the terms:
positive
negative
The term "positive" describes whether or not either of these conditions is present.
The term "negative" is used if there is no association or connection between the patient's AKN and FD or DC.
Conclusion of Dr.Bumpinator's Study on 108 AKN Patients
Based on his data analysis, Dr. Bumpinator was able to finalize his AKN classification system. Furthermore, his findings led to new conclusions about the disorder. Previously, it was thought that Acne Keloidalis Nuchae predominantly affected males of African descent. However, after observing and analyzing the patients in this study, Dr.Bumpinator concluded that this condition significantly affected both black and Hispanic men.
The Necessity of  Having Clearly Defined Classification Categories For Acne Keloidalis Nuchae
Dr.Bumpinator's classification system matches specific patient presentations with specific therapeutic techniques that are most appropriate for producing the best-looking cosmetic outcomes possible. It serves as a dependable resource for evaluating different treatment approaches so that clinicians and medical specialists can reliably anticipate the quality of treatment outcomes that can be expected.
And lastly, it offers a common objective language that physicians can utilize to describe unique and nuanced variations present across patient cases.
For all types of AKN presentations, Dr.U has innovated specific medical,  surgical excisional, laser, and radiation-based techniques that will typically remove the bump permanently and render the most optimal-looking scar or footprint, a final consideration that is commonly overlooked by traditional approaches.
How Dr.Bumpinator's AKN Classification System Was Used To Determine Effective Treatment Approaches For Two Patients
Dr.Bumpinator illustrates the necessity of utilizing his classification system for Acne Keloidalis Nuchae through two of his notable patient case studies to pre-determine effective treatment approaches to get rid of bump lesions and leave behind the best and most inconspicuous looking appearance on the back of the head.
Patient 1: Choosing Laser To Eliminate Class III AKN Papules
This patient exhibited small discrete papular lesions on the back of his scalp, which later fused into a singular AKN tissue mass. Dr.Bumpinator classified his presentation as Type III merged papules. The yellow dot in his photo below depicts the location of the occipital notch.  This point serves as an anatomical landmark referencing an upper horizontal boundary line of a region that Dr.Bumpinator defined within his classification schema.
Since the patient's AKN tissue mass exceeds this imaginary line, his case qualifies as a Type III.
With both descriptors in place, Dr.Bumpinator then decided on the laser as the best treatment modality [3,4] for flattening the patient's papular-nodule lesions.  Here are before and after photos showing a marked improvement in the patient's head and neck appearance.
The before and after photos below clearly show that this Type III patient responded rather well to his laser treatment.
Patient 2: Surgery Is the Best Choice For Eradicating a Class III AKN Tumor
In one unusual case, the patient's Acne Keloidalis Nuchae bump grew over a period of 19 years,  despite several traditional treatment approaches, including steroids, antibiotics, and excision surgery. He was then referred to Dr.Bumpinator as a last resort. To determine the most effective treatment course, it became necessary to determine how to classify this particular presentation. Although this patient's AKN visually appears to be strikingly different from the scenario of patient 1 described above, the actual span of the tissue mass also qualifies his case as being class III.
Using his classification schema, Dr.Bumpinator then moved to the next step of clarifying the lesion type.  With a keloidal/tumorous mass in the class III distribution zone, this patient met the criteria for surgical excision as the optimal treatment method for this AKN case[5].
Check out the side-by-side comparison of before and after images (and video below) to see his results.
Interested in speaking to Dr.Bumpinator himself? Click the button below to get started!
[Button id="4″]
FAQ – Acne Keloidalis Nuchae Classification and Treatment Types
Are all non-merged Acne Keloidalis Nuchae bumps treated with laser?
Wonderful question! The laser is not the only type of treatment available for getting rid of all discrete individual AKN papules.   Dr. Bumpinator has developed criteria for determining when laser treatment is more likely to be an optimal approach.
In the after photo of AKN patient 2, the skin on the back of the head and neck looks pretty smooth and natural!  How did Dr. Bumpinator get such a huge-sized wound to close?
Great observation there! "Cutting-out," so to speak, a large-sized AKN tumor would obviously leave behind a huge empty wound. Dr.Bumpinator has developed tools such as the  Athena tension suture kit and a number of wound healing techniques that draw on a modern understanding of wound healing paradigms. According to Dr. U, we must learn to speak the language of the wound, in other words, become wound whisperers to be able to navigate the landmine riddled field of AKN, keloids, and scar management.
References
Woo DK, Treyger G, Henderson M, et al. Prospective controlled trial for the treatment of acne keloidalis nuchae with a long-pulsed neodymium-doped yttrium-aluminum-garnet laser. J Cutan Med Surg. 2018;22:236–8
Umar, S., Lee MD (2021). A Retrospective Cohort Study and Clinical Classification System of Acne Keloidalis Nuchae. J Clin Aesthet Dermatol, 14(4), 61–67
Tawfik A, Osman MA, Rashwan I. A novel treatment of acne keloidalis nuchae by long-pulsed Alexandrite laser. Dermatol Surg. 2018;44:413–20.
Umar, Sanusi. "Selection criteria and techniques for improved cosmesis and predictable outcomes in laser hair removal treatment of acne keloidalis nuchae." JAAD case reports vol. 5,6 529-534. 8 Jun. 2019
Glenn MJ, Bennett RG, Kelly AP. Acne keloidalis nuchae: treatment with excision and second-intention healing.  J Am Acad Dermatol. 1995;33(2 pt 1):243–6
Further Reading
See how Dr. Bumpinator terminated the small acne-like AKN bumps for this patient using his SUPER-HUMAN surgical prowess